Quick Red sauce bread with cream cheese (side) recipes - quick red sauce bread with cream cheese (side) is a misunderstood food and there are some others like -Eggs are thought of filled with cholesterol and egg yolks particularly must by no means be consumed. Whereas Medical specialists say that Saturated fats along with Trans fat elevate more blood cholesterol as compared to dietary ldl cholesterol. Eggs are fairly satisfying; Egg yolks have lutein in addition to zeaxanthin that cut back threat of 'Age-Associated Macular Degeneration (AMD)' that leads to blindness after 50 years of age.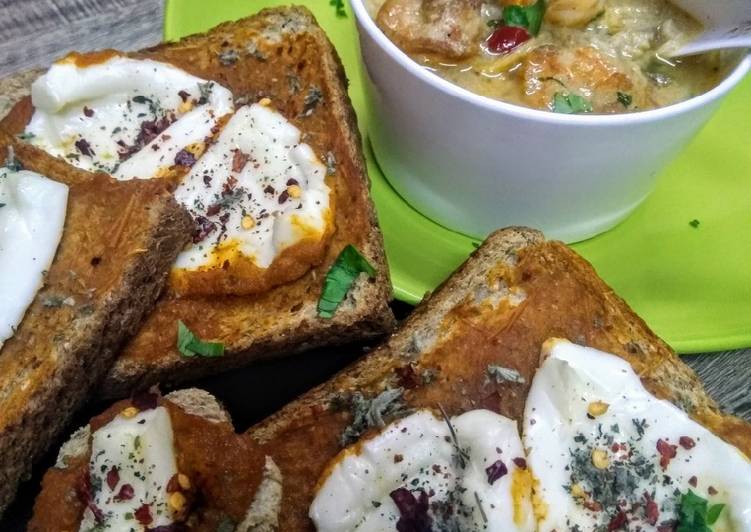 A garlicky cheddar quick bread ready in about an hour from start to finish. Carb lovers unite ♥ Bread has always been one of my favorite foods. Not the hohum loaves you'll find at most grocery stores, but the soulful, artisan varieties made with love.
You can have Quick Red sauce bread with cream cheese (side) using 14 ingredients and 5 steps. Here is how you cook that.
---
Ingredients of Quick Red sauce bread with cream cheese (side)
It's 4-6 slices Brown bread.
It's 6-8 cream cheese cubes.16 GM approximately.
You need Thyme as per taste.
You need 1/2 tbs Paprika powder or as per desire.
Prepare 6-8 tbs red curry sauce or.
It's tomato paste.
It's 1/4 tsp salt.
Prepare Red curry sauce.
Prepare 2 big tomatoes.
It's 1 large fresh German chilli or gelapano.
You need 2 cloves garlic.
It's 1/4 of medium onion.
Prepare 1 tbs Chilli garlic sauce.
You need 1 cup water.
Using milk and cream cheese in place of eggs makes for an extra-creamy carbonara. Drain and keep warm in a bowl. In a mixing bowl combine cream cheese, sour cream, cheddar cheese, grated parmesan cheese, minced garlic plus seasonings, and stir until thoroughly combined. Stir cream cheese mixture into the broccoli and mix until combined.
---
Quick Red sauce bread with cream cheese (side) step by step
Wash the red sauce ingredients.....and blanched them...for 3 to 4 minutes.
Now cool down it and blend them well...now cook again in a pan until it turn into thick paste.
Leave paste for soup and in remaining or in 7 to 8 tbs sauce add salt and mix well..
Heat the oven on 200 degree and on brown bread spread red curry sauce then cream cheese portion... sprinkle some dried thyme leaves and paprika powder......
Now bake for 10 minutes only...crispy red sauce bread is ready to serve with soup.
Quick Red sauce bread with cream cheese (side) - A few minutes before the spaghetti is done, add the cream cheese to the pasta sauce. Cook and stir, using a wire whisk, until the cheese melts and the sauce is creamy. The cream cheese may not dissolve completely in the sauce because the sauce is acidic, but that's OK. It will add the desired creamy texture and flavor. If you like meatball subs, you'll love this tangy casserole—it has all the rich flavor of the popular sandwiches with none of the mess. Read Also Recipes