Brad's elk bourguignon w/ mashed cauliflower and parsnips recipes - Whether you browse brad's elk bourguignon w/ mashed cauliflower and parsnips recipes, buy an e-book, a hardback e book, or an online subscription to a recipe web site, you can see that there are lots of resources on the web which will help you to study high secret recipes today. The easiest way to seek out online cooking guides on the web is to make use of overview websites, they may also help you decide on which product you wish to buy while on the similar time providing you with detailed opinions.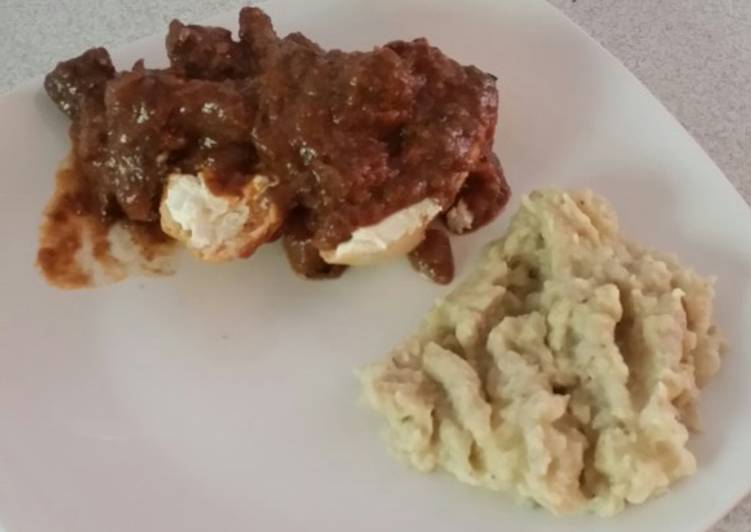 Cauliflower and parsnip combined with milk and butter make a great alternative to traditional mashed potato. Cauliflower and parsnip marry for a delicious alternative to mashed potatoes. Who knew putting cauliflower and parsnips together would be so good!
You can have Brad's elk bourguignon w/ mashed cauliflower and parsnips using 21 ingredients and 9 steps. Here is how you cook it.
---
Ingredients of Brad's elk bourguignon w/ mashed cauliflower and parsnips
Prepare For the elk.
Prepare 4 lb elk roast.
It's 6 slices bacon.
You need 1 LG sweet onion.
Prepare 4 cloves minced garlic.
It's 12 large basil leaves, chopped.
Prepare Around 10 cups beef stock.
You need 1 bottle good red wine, I use Cabernet Sauvignon.
You need 2 cups flour seasoned heavy w/ garlic salt, white pepper.
It's Also seasoned w/ onion powder, steak seasoning, & smoked paprika.
You need For the mash.
You need 3 LG parsnips, peeled and cubed.
You need 1 small head cauliflower, chopped.
You need 1/4 cup milk.
Prepare 2 tbs butter.
You need to taste Sea salt and black pepper.
It's 2 cloves garlic, minced.
Prepare Other ingredients.
You need 1 loaf sourdough french baguette.
Prepare Creme fraiche.
It's Grated gruyere cheese.
I didn't add any milk to it because my boyfriend isn't a big dairy person, and I added some. Vegan Mushroom Bourguignon served over Potato Cauliflower Mash. All Cooked in an Instant Pot together with PIP. I also steam the potato and cauliflower while the mushrooms cook, Pot in Pot.
---
Brad's elk bourguignon w/ mashed cauliflower and parsnips instructions
Chop bacon and fry off in a LG frying pan. Remove to a LG dutch oven..
Meanwhile, cut elk roast into 1 inch cubes. Remove all silver skin, fat, or tendon..
Mix flour and seasonings in a LG bowl..
Fry onion and garlic in the bacon grease until sweated and translucent. Do not brown..
Add the onion, garlic, basil, beef stock, and wine to the Dutch oven and bring to a boil..
Add oil to the bacon fat. Roll elk in flour. Knock off excess flour and fry in batches. Add to dutch oven when done. In between batches remove flour from pan and add a little oil..
Simmer the mixture for 1 1/2 to 2 hours uncovered. Stir often. This should reduce and thicken up nicely..
Meanwhile add parsnips and cauliflower to a saucepot. Just cover with water. Bring to a simmer and cook until just tender. Drain water. Add rest of parsnip ingredients and mash until smooth, but slightly chunky..
When sauce thickens and elk is tender, slice baguette on a bias. Butter and slightly toast. Spread creme fraiche over baguette. Sprinkle with cheese. Cover with elk and sauce. Serve parsnips on the side. Serve immediately. Enjoy..
Brad's elk bourguignon w/ mashed cauliflower and parsnips - This roasted cauliflower & parsnip mash is a flavorful and simple seasonal side dish. Heat milk in a large pot over medium heat until warmed and just under a boil. It's really freakin' good, but it's also fairly flat. It lacks the starchiness of mashed potatoes, it lacks the heft! In playing with alternative options I have found that parsnips and roasted garlic are the magic combination to take cauliflower mash to another level. Read Also Recipes