Hot cross buns recipes - Having hot cross buns at house lets you have extra household time, you may as well showcase to your mates and feel good about inviting them over for dinner, they will be so impressed eating a meal which tastes prefer it's been made at a 5 star restaurant. You'll soon discover that you will be able to make these great tasting meals anytime. It is superb what number of cooking guides can be found to you which will let you in on so many secrets.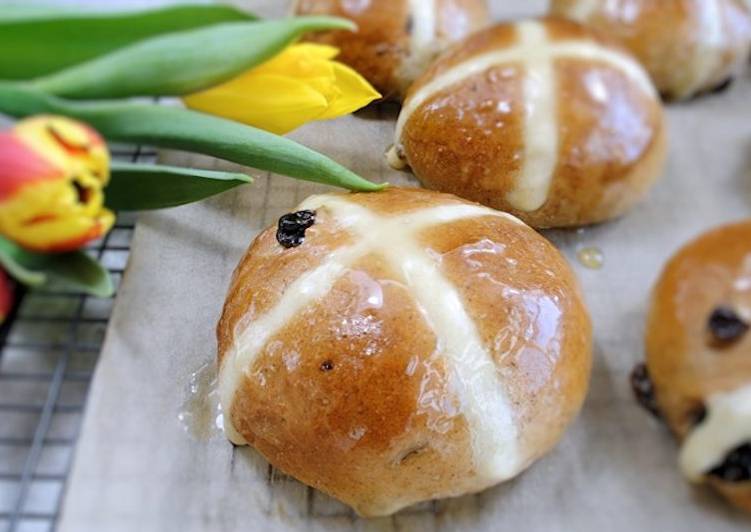 Pipe a line along each row of buns, then repeat in the other direction to create crosses. What Do Hot Cross Buns Taste Like? My hot cross buns are a cross (get it?) between a dinner roll and cinnamon roll.
You can have Hot cross buns using 24 ingredients and 13 steps. Here is how you cook that.
---
Ingredients of Hot cross buns
You need For the ferment:.
Prepare 20 g (1 1/2 tbsp.) sugar.
It's 10 g fresh or 1 ½ tsp fast action yeast.
It's 280 g (1 1/4 cup) warm milk.
You need 140 g (1 cup) wholemeal flour.
It's For the dough:.
You need 310 g (2 1/2 cup) strong white flour.
You need 7 g (2 tsp) mixed spice.
It's 3 g (1 tsp) cinnamon.
It's 50 g (3 1/2 tbsp.) butter, softened.
Prepare 35 g (2 tbsp.) sugar.
Prepare 1 medium egg (50g).
It's 5 g (3/4 tsp) salt.
Prepare 180 g (6 oz.) sultanas.
Prepare 80 g (3 oz.) raisins.
Prepare 40 g (3 tbsp.) white rum (or fruit juice, or water).
You need For the crossing mix:.
You need 50 g (4 tbsp.) plain flour.
Prepare 1 g (1/2 tsp) baking powder.
It's 5 g (1 tsp) vegetable oil.
You need 50 g (1/4 cup) water.
Prepare For the glaze:.
Prepare 50 g (1/4 cup) honey.
Prepare 25 g (3 tbsp.) double cream.
They're soft, yet a little dense with a deliciously spiced flavor from cinnamon. The Tradition Of Hot Cross Buns. Traditionally eaten on Good Friday to mark the end of Lent, these plushy and slightly spiced breads studded with currants inside and drizzled with icing on top hold deep. Hot Cross Buns are a traditional Good Friday treat!
---
Hot cross buns step by step
Prepare the raisins well in advance, best to leave them to soak for a few hours or even overnight. Put the raisins and sultanas in a ziplock bag, warm the rum or juice (on the hob or in a microwave) until almost boiling and pour over the fruit. Squash it around in the bag so that the fruit is well covered in the liquid, zip up the bag and leave for the moisture to be absorbed..
Prepare the ferment by dissolving the yeast in the warm milk and mixing it well with the flour and sugar. Leave to rise and bubble up for about an hour..
Add the dough ingredients to the ferment and knead or mix in a standing mixer with the dough hook attachment until the dough is smooth, elastic and bounces of the sides of the bowl or stops sticking to your hands. Let it rest for 10 minutes..
Drain the fruit – there will be next to none liquid left - and then knead it in very gently, taking care not to break up the raisins. If using the standing mixer, mix the fruit in on the lowest speed and finish off by kneading it in with your hands. The huge amount of fruit makes for delicious buns but it's difficult to distribute it evenly – so invariably you'll end up with some buns more fruited than others..
Leave the dough to prove in a warm place until doubled in size – at least an hour..
Turn it out onto lightly floured surface, trying not to de-gas it too much..
Divide the dough into 16 even pieces (they will weigh about 75g each if you want to be that precise), mold the pieces into tight balls and place on baking trays lined with parchment, spaced about 5cm apart..
Place the trays in large plastic bags, inflate each by blowing into it and quickly tying the ends and leave to rise for about an hour, until the buns are almost touching each other..
Preheat the oven to 180C/350F/gas 4..
Make the crossing mix – beat all the ingredients together in a bowl with a spoon. Transfer it into a piping bag (if you haven't got one, spoon the mix into a plastic bag and cut off a corner) and pipe crosses on the buns, using your finger to stop the flow of the mix after each line..
Immediately put the trays in the oven and bake for 15-18 minutes until well browned – except for the crosses..
Transfer to a wire rack on the parchment – it will make glazing them easier if they are still slightly stuck to the parchment and not dancing around while you brush the glaze on..
Heat up the honey until almost starting to boil and stir in the double cream. Brush the glaze on the buns – still warm or slightly cooled down, it doesn't matter – and leave to cool completely or be snatched to tuck into while still warm..
Hot cross buns - These slightly sweet yeast-leavened buns are spiced with cinnamon and speckled with currants, citron, and orange zest. Our hot cross buns recipe is easy-to-follow and makes the ultimate spiced, Easter treat. This sweetly spiced hot cross buns recipe takes a little effort but it's worth it. Hot cross buns are made with an enriched dough. While the hot cross buns are baking, make the glaze. Read Also Recipes