Vegan Friendly Hazelnut and Chocolate 'Chelsea Buns' recipes - vegan friendly hazelnut and chocolate 'chelsea buns' also has saturated fat together with dietary cholesterol and is averted by individuals caring about hearts. The reality is that lean cut beef is low-fat and supplies protein as well as iron (supplies oxygen from lungs to physique cells). Many ladies are found deficient in it. Select steaks which have deep crimson color with much less marbling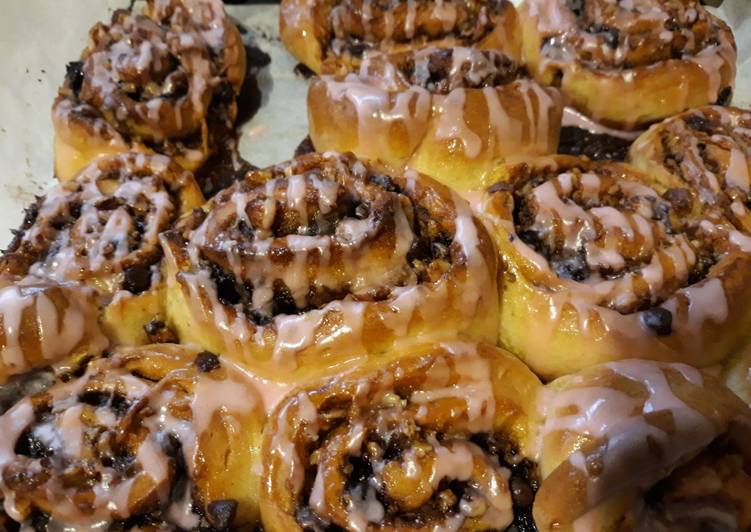 Sticky, sweet and soft vegan Chelsea Buns filled with tangy cranberries, sultanas and sweet aromatic dried apricots. These Chelsea Buns are perfect for your weekend brunch or afternoon tea. Tip the flour into a bowl and stir in the sugar, salt and yeast.
You can have Vegan Friendly Hazelnut and Chocolate 'Chelsea Buns' using 22 ingredients and 13 steps. Here is how you achieve that.
---
Ingredients of Vegan Friendly Hazelnut and Chocolate 'Chelsea Buns'
You need Bread.
It's 8 g sachet instant dry yeast.
You need 1/4 cup warm water.
It's 3 and 1/2 cups white flour.
It's 1 Tbsp sugar.
Prepare 3/4 cup warm soy milk.
You need 3 Tbsp melted vegetable based spread.
It's Filling.
It's 2 Tbsp vegetable based spread.
You need 1/2 cup dark cane sugar (just brown will do).
It's About 1 cup chopped hazelnut.
Prepare 1/4 cup dark chocolate chips.
You need Cinnamon.
You need Mixed spice.
You need Glaze.
Prepare 1 tsp agar agar flakes.
Prepare 2 Tbsp warm water.
You need 1 Tbsp sugar.
You need Icing.
Prepare 4 Tbsp icing sugar.
It's Juice of half a lemon.
You need 1 single drop red food colouring or pink food colouring.
Mix together the butter, egg and milk, and add to the flour mixture. Mix the ingredients until they bind together to form a dough. The original Chelsea Bun was made at The Bun House, Chelsea, hence its name. These Chelsea buns are extra decadent, as they're packed full of juicy sultanas, hazelnuts and sweet Medjool dates.
---
Vegan Friendly Hazelnut and Chocolate 'Chelsea Buns' instructions
Put water, yeast and sugar in a bowl and leave for about 10 minutes or until frothy..
Add melted spread and soy milk, mix..
Add 3 cups of flour and stir until it forms a ball. It'll get pretty hard to mix but hang in there. Leave the other 1/2 cup of flour..
Turn out onto lightly floured surface and knead until smooth and elastic (springs back when you pull it)..
Place in a lightly oiled bowl and leave to rise in a warm place for an hour or so, until it's at least doubled in size..
Preheat oven to 190°C. Take out of bowl and knead lightly on lightly floured surface. Roll out into about a 30cm X 25 cm rectangle..
Combine all filling ingredients and spread out on the rectangle, making sure it reaches the edges..
Roll from the shortest side into a log. Cut into 12 pieces with a sharp knife..
Stuff into a sponge tin and bake for about 25 minutes..
While waiting, whip up the icing by combining all ingredients. It should be a little runny..
Also while waiting combine the glaze ingredients in a saucepan on the stove until the sugar is dissolved. Strain the jelly-like pieces with a sieve..
When out of the oven, brush with glaze, it will give a much more shiny appearance..
Lastly, when the buns are cool, drizzle with icing..
Vegan Friendly Hazelnut and Chocolate 'Chelsea Buns' - Beat until mixed, add the egg and beat it well. A chocolate cake just as delicious and moist as the original, but made with vegan-friendly ingredients. (Non-vegans will love it too). Ideal for birthday and celebration cakes. Two layers of chocolate sponge filled with smooth chocolate icing. This cake can be customised with the addition of a plaque piped with your message. Read Also Recipes